Coronavirus came like a global earthquake, and no one knows when the world will stop quaking.
The seismic wave of this pandemic has shaken up our lives in too many ways to count.
COVID-19, the most recent strain of coronavirus we're contending with, has caused numerous illnesses, and unfortunately deaths, worldwide.
Enter the face mask. Differing and flip-flopping views of face masks have resulted in confusion and skepticism.
3M Aura 9320+ filtering half mask (respirator) (FFP2, up to 12 MAC) Provides protection against particle hazards (dust and mists) in a wide variety of industrial applications, as well as in other work situations requiring aerosol protection.
The unique three-panel design of these 3M Aura 9320+ FFP2 dust masks addresses the need for comfort, protection, and practicality. The three panels allow for freedom of movement to avoid the mask slipping, while the top panel integrates well with the wearer's safety glasses. Hygienic packaging and the fold-flat design mean these 3M dust masks are convenient and practical to carry around.
3M Aura Particulate Respirator 9320+Gen3 is the third generation of our best-selling 3M Aura respirator, offering comfortable and reliable FFP2 breathing protection combined with the original 3-panel, flat-fold design. It has practical positioning tabs, braided headbands, and an embossed, sculpted upper panel that helps reduce eyewear fogging. It uses 3M Advanced Electret (filter) Media (AEM), a high-performance material that's engineered for easy breathing.
3M Aura Particulate Respirator, FFP2, Unvalved, 9320+
Original 3-Panel design allow forgreater facial movement Low-resistance filter technology help you breath more easilyEmbossed top panel help reduce eyewear fogging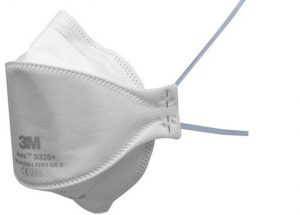 The symptoms of the illness associated with this novel coronavirus are similar to those caused by influenza and other respiratory illnesses and include coughing, shortness of breath, fever, and difficulty breathing. In many countries, COVID-19 is considered to be a high-risk workplace hazard for healthcare workers in a variety of fields and specializations. The WHO and U.S. Centers for Disease Control and Prevention (CDC) have recommended airborne precautions for healthcare workers for certain interactions with patients with suspected or known cases of COVID-19.
3M is committed to supporting the public health and government response to the COVID-19 pandemic. 3M has ramped up production at its manufacturing facilities around the world – and continues to do so further – and is working with customers, distributors, government and medical officials to help get supplies to where they are most needed.