Cold and Heat Resistancy in Disposable Tableware
One of the major drawbacks of many disposable tableware is its vulnerability to heat and cold. Although these containers may be a good container for cold or heat, most consumers have trouble finding containers that can withstand both the freezer cold and the microwave heat. But what is the appropriate option in this case?
Set aside plastic containers
Disposable plastic containers are one of the worst choices for heating and cooling. Recent studies by scientists on disposable plastic containers have shown that these containers, when exposed to heat and cold, release compounds that can be harmful and dangerous to human health. The carcinogenicity of microplastics and the chemical composition released from disposable plastic containers in the freezer cold or microwave heat have been proven in numerous studies. During these years, many educational programs have been produced by health-oriented institutions to inform people and prohibit them from using these dishes, especially for storing hot food.
Aluminum cookware catches fire
Another common disposable tableware in recent years is aluminum disposable tableware. Although these products are more hygienically suitable than plastic containers and have an acceptable resistance to freezer cold, but they are considered a completely unsuitable option for use in the microwave and in the face of microwaves. Because these waves collide with the surface of aluminum containers, they damage the microwave oven and can cause a fire and a power outage. Another disadvantage of disposable aluminum containers is that the food inside them loses its heat in a short time. Also, due to the thermal conductivity of metals, the transportation of hot food in these containers is associated with many problems.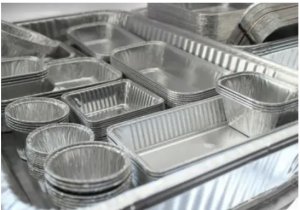 <<Foam dishes change the taste of food>>
Another type of disposable product that has become very popular among consumers in recent years is foam disposable tableware. The low weight and lower price of these dishes compared to aluminum dishes is the main reason for the popularity of this dish. But most consumers believe that the taste and smell of hot food in these dishes change. For this reason, heating food in these containers in the microwave reduces the quality of food and the unpleasant feeling of the consumer.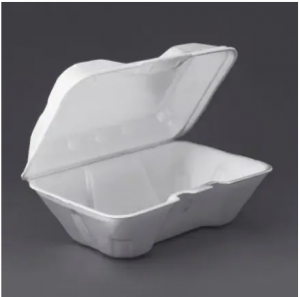 Paper containers also have plastic
In recent years, disposable paper containers have also gained fans. Of course, these dishes also have their own disadvantages. These dishes do not tolerate the humidity of the freezer space and they can not be used to heat food in the microwave. In addition, the inner plastic layer of disposable paper containers usually has the problems of plastic containers.
Disposable food wares made of sugarcane
 is a different option
That being said, none of the disposable tableware mentioned above can be a good choice for heating and cooling. But is there another option for a suitable disposable container ?! In recent years, with the introduction of disposable products made of sugarcane fiber (bagasse), this problem of consumers has been largely solved. Containers made of sugarcane fibers are containers with high resistance to heat and cold that can be used in both freezer and microwave environments.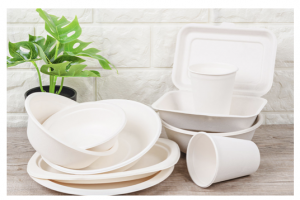 Disposable cellulose products made from sugarcane fibers do not emit any harmful or pathogenic substances into the environment because they do not contain plastics and chemical polymers. Also, these dishes do not change the color, smell and taste of food and can maintain the heat of the food inside the dish for a longer time than similar dishes.The use of these disposable cellulose containers has become popular in many developed countries in recent years, and studies show that consumers are more satisfied with products made from sugarcane fibers than other disposable containers.
For more information about disposable cellulose products,please contact us by
Istanbul Office Address :